Drop Off Information: Fall 2020
Traditional Consignors: Fri., Sept. 11 through Sun., Sept. 13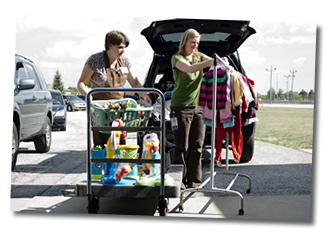 Please follow this process for dropping off consignor items.
1. Bundle and rubber band all clothing by size and gender.
2. Organize your non-clothing items by like item.
When you arrive to drop-off your items, you can unload your clothing items first onto a rolling rack and you will hang your items on the appropriate sales rack.  Then you can bring in the rest of your items and place them on the sales floor in their designated places.
All items will be inspected after drop-offs and anything that isn't accepted will be held for you to pick-up with your unsold items.
If you are unable to unload and place your items on the sales floor, please choose a Valet Drop-off appointment.  We will unload and place all of your items on the sales floor.  You will be required to still bring your items rubber banded and bundled by size and gender.  There is a $10 fee for this service.
Schedule Your Drop-Off Appt
---
Pick-Up Information: Fall 2020
Saturday, Sept. 19, from 6pm – 8pm
Items that do not sell during the Indy Kids Sale will be available for pick-up after the sale.  We work very hard to have your items organized for you when you pick up your unsold items.  Consignor items will be partially sorted by consignor number as time allows.  Please come prepared to spend a few minutes locating your items and having a worker check you out.
The pickup location is the same as the drop-off location.
Your items must be picked up by the indicated time or they will be donated.