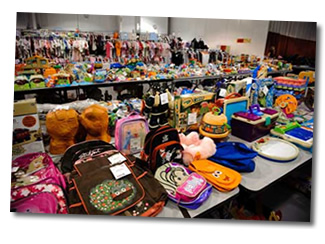 Indy Kids Sale is a children's consignment sale in Indiana.  We currently offer sales in Noblesville, just north of Indianapolis.
Indy Kids Sale started in 2005 with just 15 consignors. The first sale was located in the front yard of a home in Carmel Indiana. We quickly grew and are now located at the Hamilton County Fairgrounds using 16,000 square feet of space.
Indy Kids Sale has over 400 consignors who bring close to 80,000 high quality items including children's clothes, toys, furniture and any type of baby equipment you can think of.
Indy Kids has thousands of shoppers that are looking for great deals. These shoppers come from all over including Carmel, Fishers, Noblesville, Indianapolis, Greenfield, Muncie, Anderson, Kokomo, Fort Wayne, Illinois, Ohio and Michigan.
Our main goal at the Indy Kids Sale is to show the love of Christ. We sincerely hope that you know Him and hope that, at least in some small way, the Indy Kids Sale is a reflection of his love.  We appreciate all of our consignors and shoppers and we would love to meet you at the next sale! Please take time to stop by and see what a children's consignment sale is all about.
---
MEET OUR TEAM
Lori – Sale Organizer

Lori has always been a bargain shopper and feels so fortunate to be able to help families save hundreds of dollars a year on their children's items as well as make great money selling their gently used items. Lori has an amazing husband Mike who is a huge help during sale time.  He has become her "computer and anything else that she can't get done" guy. They have two kids.  Her family enjoys gardening together and serving together at Grace Church in Noblesville.

---

 
Linda – Sale Manager
Linda has worked with Indy Kids Sale for many years. Over those years she has gained three grandchildren making shopping at Indy Kids Sale even more fun! Linda is the smiling face behind the consignor check-in process and the cashiers. Everyone loves her! In her spare time she plays an integral role at the Grace Church Care Center as well as being involved with the Grace prayer team and the Grace Kids ministry.